TARGET AUDIENCE
All physicians, fellows in training, medical students, vascular technicians & nurses interested in vascular surgery: Vascular surgeons, Cardiovascular surgeons, Neuro-surgeons, Radiologists, Cardiologists, Vascular Anaesthesiologists, Specialists in nephropathy and dialysis. The Venous Session is open to all physicians, fellows in training, medical students, vascular technicians & nurses interested in venous therapy: Vascular surgeons, Phlebologists, Angiologists, Dermatologists involved in the treatment of varicose veins.
REGISTRATION FEES
A registration form must be completed and returned to divine [id]. Upon receipt of full payment, the participant will receive an e-mail confirming registration. The deadline for early registration fees is October 31, 2016. If you want to take advantage of the lower fees offered, make sure that your registration and the payment are sent well in advance. The final deadline for pre-registrations is January 15, 2017. It will be possible to register onsite but the Congress organizers recommend pre-booking to prevent delays to delegates. The registration fees include: access to all Scientific Medical Sessions, Exhibition Hall, headphones with simultaneous translation, coffee breaks and lunches. Admission requires a nominative badge.
INDIVIDUAL REGISTRATION FEES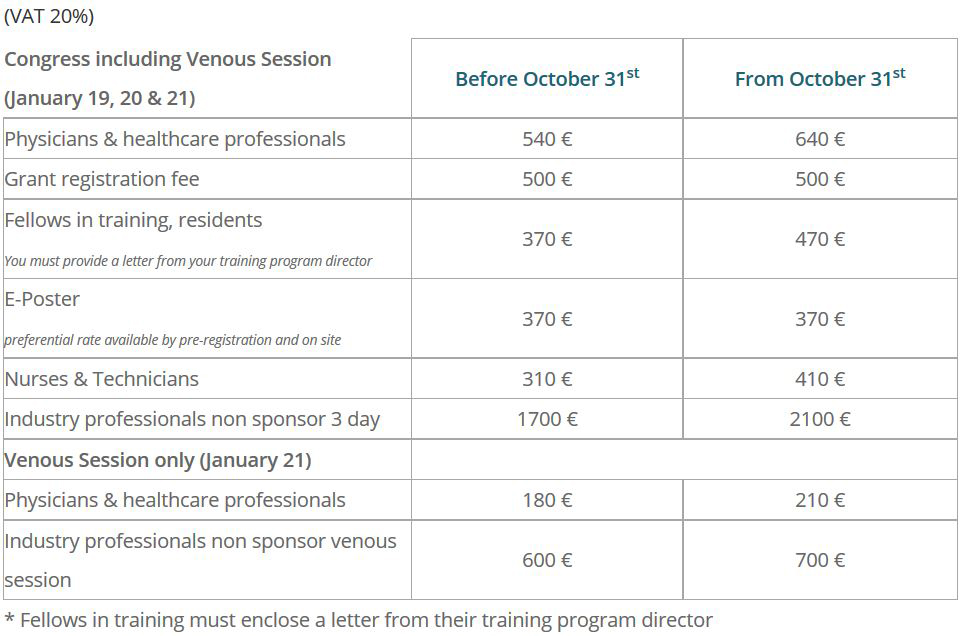 GROUP REGISTRATION
For any group reservation at the preferential rate of 440 euros, please contact Michèle Caboste (payment to be made before November 16) => E-mail: mcaboste@divine-id.com
CANCELLATION & REFUNDS
divine [id] must be notified of any cancellations in writing.
Cancellation before December 18: refund less 10% (administrative charge).
Cancellation from December 18: no refund will be given. Name changes are requested before
January 15.
After January 15, no name changes will be accepted.
No-Shows at the congress will be charged the full fee.
Refunds will be processed until end of March 2017.
NB
: This cancellation policy is not applicable for Group/Sponsor reservations (please contact Michèle Caboste for more information:
mcaboste@divine-id.com
).
Divine [id] is developing alternative dispute resolution methods (mediation) for its clients, independent, free and quick, on top of its internal department of claim management.
BADGES
Admission to all scientific events & exhibition hall require a nominative badge.
INFORMATION
Your last name , first name and institution will be communicated to the congress sponsors; if you wish to remain anonymous please contact claunoy@divine-id.com.